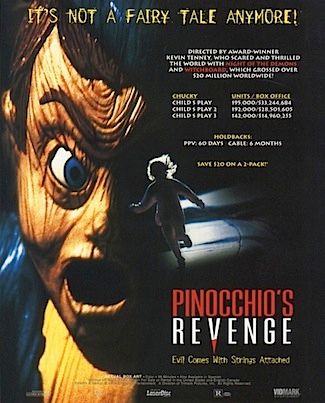 Director – Kevin Tenney
Cast – Candace McKenzie, Lewis Van Bergen, Ivan Gueron, Thomas Wagner, Rosalind Allen, Brittany Alyse Smith, Ron Canada
Release Year – 1996
Reviewed by John of the Dead
If you know me then you know that inanimate horror is one of my absolute favorite horror sub-genres, and that brings me back to a film I rented when I was about 11 years old…Pinocchio's Revenge. Now 17 years later I am revisiting this "laughable" piece and naturally finding it less enjoyable than it was when I was young and stupider. This experience was a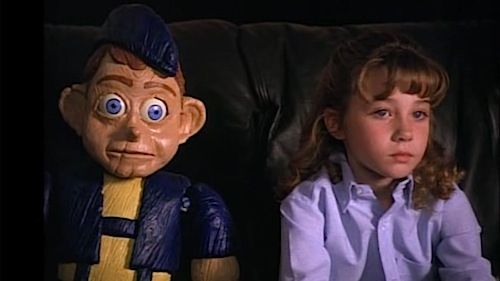 tough one because it takes so darn long for the good stuff to hit the screen, and that will most likely turn off most of its viewers. Pinocchio's Revenge is not a horrible film in my eyes and it does get a few things right, but there sure are a lot of wrongs.
Defense attorney Jennifer Garrick is doing everything in her legal power to save her client, a serial killer who claims his Pinocchio doll killed his children. She makes the mistake of bringing the doll home, where her daughter takes a liking to Pinocchio and strange accidents begin to happen.
Right from the get-go you will notice that this is a very low budget film, and the lack of budget may have something to do with how slow this story moves. For the extreme majority of the film we are teased with Pinocchio action, never giving us anything good and merely showing us a motionless doll that appears to move on his own offscreen. After 56 minutes of waiting the horror intensifies when Pinocchio finally speaks, and he finally begins to move around a little over an hour into the film. Sometimes I like long development and sometimes I don't, and in this case I was very disappointed at how it took for the horror to develop. Little was offered to keep the viewer engaged during the long development and while the horror afterwards was decent it never made up for the damage done – especially when you consider the minuscule amount of kills the story provides.
Kevin Tenney's direction did little to aid the story and his poor execution had a negative effect. The look and feel of the flick is that of a low budget 90s experience, with decent sets, poor acting performances, and sadly…poor execution of everything involving Pinocchio. I really disliked seeing Pinocchio speak without moving his lips. Instead we are forced to endure a cheesy voiceover for his dialogue. Eventually he does begin to move his mouth, via claymation, and that is when things finally picked up. It was cool seeing him move around and torment the Garrick household, but with the lack of kills and short-lived third act the horror does not improve on the rest of the film.
Overall, Pinocchio's Revenge is a cheesy flick that may interest those who enjoy inanimate horror, but be forewarned that the horror takes way too long to develop and is gone too soon.
Rating: 4/10