Director – Wes Craven
Cast – Christina Ricci, Jesse Eisenberg, Portia de Rossi, Joshua Jackson, Milo Ventimiglia, Derek Mears, Jonny Acker, Eric Ladin, Mya, Shannon Elizabeth, Kristina Anapau, Daniel Edward Mora
Release Year – 2005
Reviewed by John of the Dead
In 2005 I was working as a projectionist for a local Cinemark movie theater. I remember Cursed playing there but despite my love for Craven's films I never watched this effort in its entirety. I remembered certain scenes because I would peek in to make sure the film was running right, but with so many bad reviews I was not interested in coming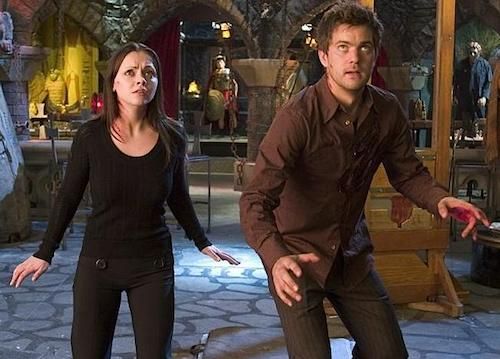 in to see the full experience. Almost 10 years later I figured enough time has passed and I should finish off the last few Craven films I have passed over, so I gave Cursed a shot. Not only did I not know it starred a young Jesse Eisenberg, but it also features Bowling For Soup covering "Little Red Riding Hood" during the opening sequence. I learned a lot watching Cursed, but that is not enough to recommend this film to you.
When a werewolf in Los Angeles curses the lives of Jesse and Christin, the brother and sister learn they must kill their unknown attacker if they hope to keep from forever becoming werewolves too.
Craven and writer Kevin Williamson took a break after Scream 3, and Cursed was their return after a 5 years hiatus. The story is an OK one but it is not anything special. If anything this is a very basic flick that gives us the usual teen horror format and offers nothing new or even slightly original to the werewolf sub-genre. Now a story does not necessarily need to break new ground to be a good story, but this was just bland – plain and simple. The character play is cliché, with each protagonist and antagonist portrayed in highly predictable fashion, and while I don't mind "cheese" – in fact I love it – this is not the type of horror cheese I find joy in. As far as the horror goes Williamson writes in a few kills and several chase sequences, but with some of the kills occurring offscreen the horror is unlikely to appease most genre vets.
Like most of Craven's directing efforts he provides a good "feel" that just sucks you in, even if the story is a bit tame. His atmosphere is fantastic as usual, making every nighttime location a creepy one. His execution of the characters was decent, with nobody delivering a horrible performance but no one giving a solid one either. Everyone was just OK. I was however very disappointed with the use of the werewolf. With effects guru Rick Baker, AKA the man behind the effects in An American Werewolf in London, on set I expected to see some great werewolf action. Sadly, the werewolf was a disappointment. All of the good scenes were filmed with a CGI beast, and while I could understand some of the acrobatics being CGI I was saddened to see even basic scenes in the CGI format. Close-up simple scenes provided a live-action beast, but the biggest blasphemy involved the transformation scene. With Rick Baker in tow and Wes Craven behind the camera I figured we'd get the best transformation scene of this millennium, but instead I saw that I believe is the biggest disappointment – a CGI transformation. Maybe this was for budgetary reasons, or time constraints, but regardless…it was a damn shame.
Overall, Cursed is a mediocre run-of-the-mill teen werewolf film that offers nothing worth going out of your way to see. This is one of those "if it's on I'll watch it" films, and nothing more than that. With Wes Craven, Kevin Williamson, and Rick Baker on board I expected much better, especially the transformation.
Rating: 5/10